Display at the Library
We have been given the opportunity to put on a display related to Merchant Seamen of Barry. This provides the opportunity to find out what people want to know about Barry's Merchant Naval history, and what educational needs we might help to meet. It also provides a way of publicising a campaign for a Barry Museum to help prevent losing the history of the town.
The petition reads
"We ask the Council of the Vale of Glamorgan to include the creation of a Museum for the Port and Town of Barry as part of the "history of the site" included in the waterfront development proposals (2009)."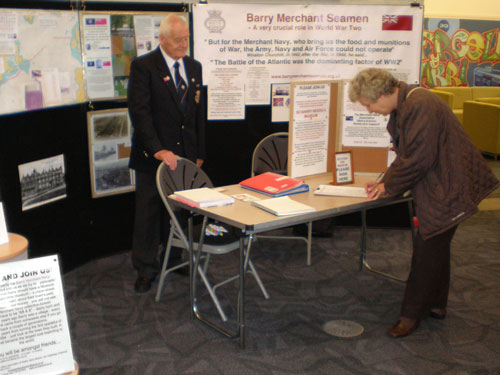 "Barry's rich history needs a museum"
contributed by Keith Greenway

Treasuring the Past - Embracing the Present - Envisioning the Future
A new museum spotlighting the history of Barry must be built as part of the town's developing Masterplan. What is actually desired and required is a cultural centre, which would house a museum to display the town's historic relics. Barry is a town that has not only been shaped by history but has also helped to shape history. This needs to be explored in a museum. Smaller places have these museums, which are dedicated to their past and I am certain such an attraction here would not only bring in tourists, but would also be of immense importance to people living here.
While we have these ideas to really develop the town's potential, we must make sure a Visitor Centre / Museum is included. This would be of great benefit for both local people and visitors alike. It is essential that something similar to this occurs and works for the whole community. The centre would also be a place for people to attend such things as art sessions and poetry, readings and much more and provide a valuable home for the many local organisations without premises.
Barry is noted amongst other things as being a Merchant Navy Town,"the forgotten service". An Historic Port "once described as the Gateway to the World", She is also proud of her "Glory Days" as a Resort - with Day Trippers and Holiday Makers, Butlin's to an extent, her beaches and funfair, "Scenic Railway" and more. Paddle Steamers, including the PS. Barry, bought for, and named after the town. Remember those that built the town from Labourers to Gentry, Councillors to Fishermen, Dockers to Merchants of the past and present.
Almost every home can tell a tale. Barry needs to remember not only her Master Mariners and Sailors and Dockers, but encompass everybody as we should: Barrian's that fought and died, in our armed forces, families left behind, captains and crews lost outside of wartimes, Railwaymen and Western Welsh personnel, without forgetting all previous history, taught by Brian Luxton at the Barry Boy's  Comp. An introduction and inspiration, listened to every word and wish I could remember all now. Another reason for such a venue.
Barry was a Port. Was a Merchant Navy Town. Was the "Gateway to the World". Was a major Resort. Was a graveyard to Steam Trains. Was a home to a proper Castle, church, industry and a growing population and much, much more. Hopefully, many that can still remember, will care not to forget. I ask only that you do something for your children and their children, who may not be bothered that you help now, but may value the attempt you and others made in years to come, to make something happen now.
Mr. David Simpson fights for support and leads the way in a challenge that is too big for one man. Thankfully, he has a growing number of helpers and supporters. I ask only that you pop into the Central Library / Arts Central at Barry, within the next few weeks. Have a look for yourself and with no pressure, decide and possibly sign on the dotted line, you could be involved with commencing a visitor centre / museum / meeting place, hub of the community and maybe a tea room We will have room for Gavin and Stacey, if by then they do still exist or even are still occurring. OUR HISTORY NEEDS A HOME. We need a new 'Blue Cafe' and somewhere to meet and remember.
Hopefully, Barrian's will unite and join in: No one is asking for another memorial Hall to be built by the people, but just some thought and a little help. Your Support now for our children's future ?
LEST WE FORGET.
KG.
Growing support for a museum
Museum, Heritage Centre, Visitor Centre - call it what you will, there is growing realisation in the town that something is needed to showcase the town and it's history in a way that is useful and meaningful for residents and visitors alike.
The Barry and District News has over the last months received many letters ponting out that Barry needs a Museum. Searching their site for "Museum Barry" finds amongst others:
www.barrymerchantseamen.org.uk